Ispropyl alcohol swabs and alcohol non-woven wipe pad for disinfection use
Product Detail
Product Tags
The concentration of most of the alcohol pads in the market only in 70%
can not achieve the medical disinfectant effects.
Only the concentration reaches 70% plus or minus5% can the alcohol go inside bacteria and sterilize them.
More comfortable, fits your wound part artistically.
Latex free to minimise allergic reactions.
Ventilated strip allows sweat and moisture to evaporate.
Highly absorbent non-stick pad protects without sticking.
Soft flexible material easily contours to body and long lasting adhesive stays secure.
Assorted size series meet all your needs for different wound.
| | |
| --- | --- |
| Product name | The alcohol pads |
| Package and Specification | 50 pieces / a box (30mmX60mm ) |
| Product materials | Consist of spun lace non-woven fabric, 75%plus or minus 5%alcohol, PE paper |
| Attentions | This product is disposable |
| Use of methods | Tear off the small package, then wipe the part needed directly |
| Storage | Keep them in a cool and dry place to avoid sunlight |
| Period of validity | 2 years |
Private label lint free alcohol wipes 70% isopropyl alcohol clean wipes
High grade non-woven cotton, more thicker, softer and tender for cleaning;
Gentle enough for your delicate skin, hands, and face, no viscous feeling after using;
Hypoallergenic natural formula contains aloe vera and Vitamin E, can effectively maintain moisture on skin;
Chlorine free, alcohol, and unscented;
Convenient packing provides a quick and easy way to use anywhere.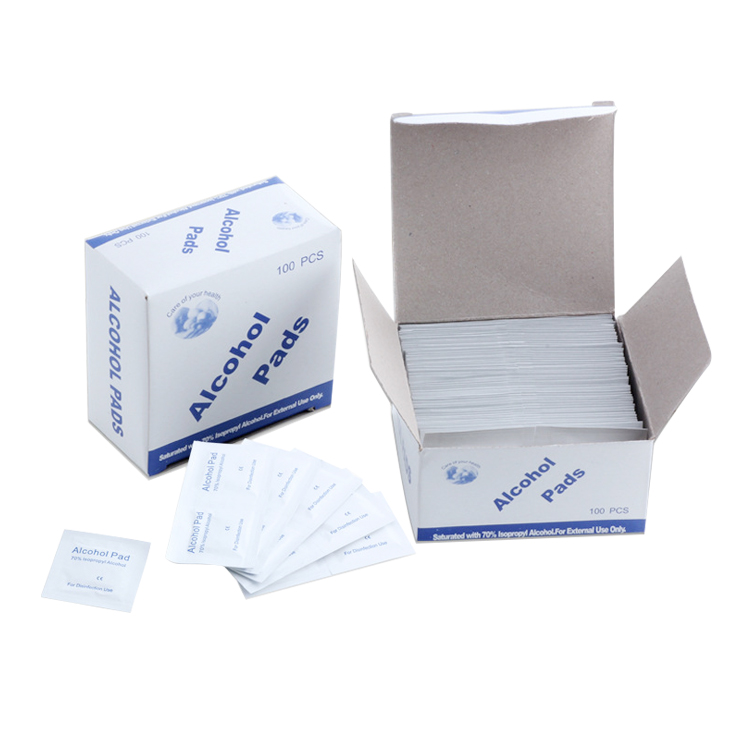 1.Sterilize mobile phone/computer:The amount of bacteria in per square centimeter is about 120 thousand on the phone, so the mobile phone is like a bacteria farm without being regular disinfected
2.Disinfect tableware / utensil:Not satisfactory to wash tableware before dinner in outdoor eating, so it will be more effective and healthier to wipe them with portable alcohol pads.
3.Disinfect small wounds:Hard to avoid small wounds no matter when you in outdoor or daily life,
you should disinfect them timely to prevent infection.
4.Clean electronic products:The electronic products like Tablet PC, keyboard, or mouse which often be used will gather dirt, so they can be wiped by alcohol pads to get the effect of disinfection.
1. Packing:1pcs/pouch, 100pcs/box, 100boxes/ctn.
2. Delivery time is about 15-30 days after receiving the payment.
3. Shipped by Air, by Sea or by any Express company, DHL, FEDEX, TNT, UPS, EMS etc.
---
Next:
Disposable Medical Mask
---